Still relishing the taste of all those afghani cuisine consists of chicken and lamb had in last night dinner , I just ventured outside office to see the thick black clouds all over the sky , a la Will Smith Kinda moment :)(Will smith in the movie "independence day" observing sudden darkness, comes outside to see dark alien mother ship covering the whole city , the whole shadow of its making the light dull and dark).Exactly the same thing I felt.
With chilling bone cracking wind , slight drizzel and the dark clouds, perfect setup to have some hot spicy wada and bajjii :) Gosh I would relish that too.. So day by day Bengalooru is getting chiller ......Ooops I forgot to tell about the afghani dinner.
It a place called "Samarkhand",if you are non-vegi then you are in the right place.The place look and feel like "daku's base camp in an old hindi movie" (Kinda dark with dimm lighting , swords crossed and hung around, fire lit (AKKA mashal).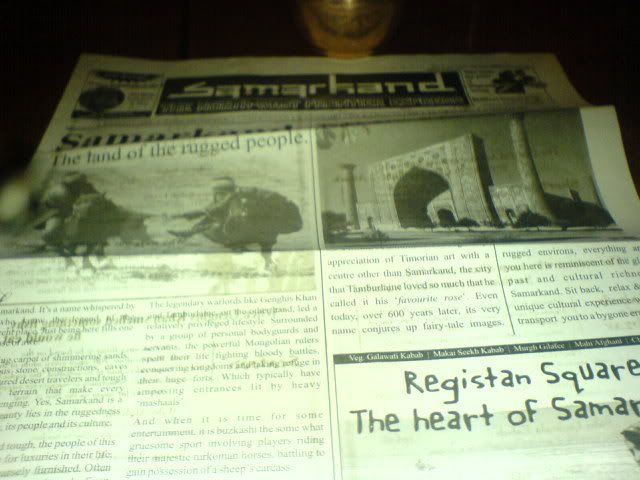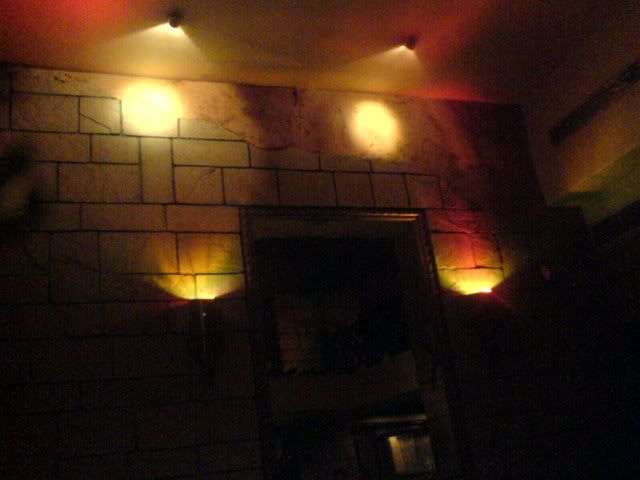 Things which I found intresing are,
Menu card ...Yeah u guessed it right. Do not mistake it for a newspaper :)
Tasty non-veg food, dum biryani should be part of your order.That a definet.
Waiters :) Man what height ...7 feet long , looks like basketball players recuricted from NBA or US or directly flown from Kabul (Remeber "Kudha gawa" movie,towering height of BIG B in afghani suit) Thats exactly you will see.
People who are having good height, please do some stretcing exercise before going there ,cos there is every possibility of your legs getting cramped.Saw how discomfert few of my pals were feeling.
Precautinory Note:) It will be little heavy for you pocket on eating out here.