After recovering from the mid week ill health , the best thing to get my body system to top gear and completely recharge is to Go for trek .Thanks for my friend krithi.So terk it is.
As instructed , landed at M.G road at 6 am in the morning,the trasnsport was there at the correct time, but the passangers were yet to come.Well the best part is that i had the leverage of parking my bike in any corner of M.G road :), it was damm empty.I cheked out the whole road up and down and finaly settled for the spot in front of barton center where few bikes were there.Now began my majestic stroll in MG road as well brigades, now i had started feeling hungry .Saw KFC shutters opened, thought let me do the First "boni" for KFC today.Jai KFC for breakfast ,sadly they were just cleaning the place,same scence in Mac.Finaly had to settle for the roadside chai:). Well saw the new brand shop "GAS" in brigade. one more feather added to that road.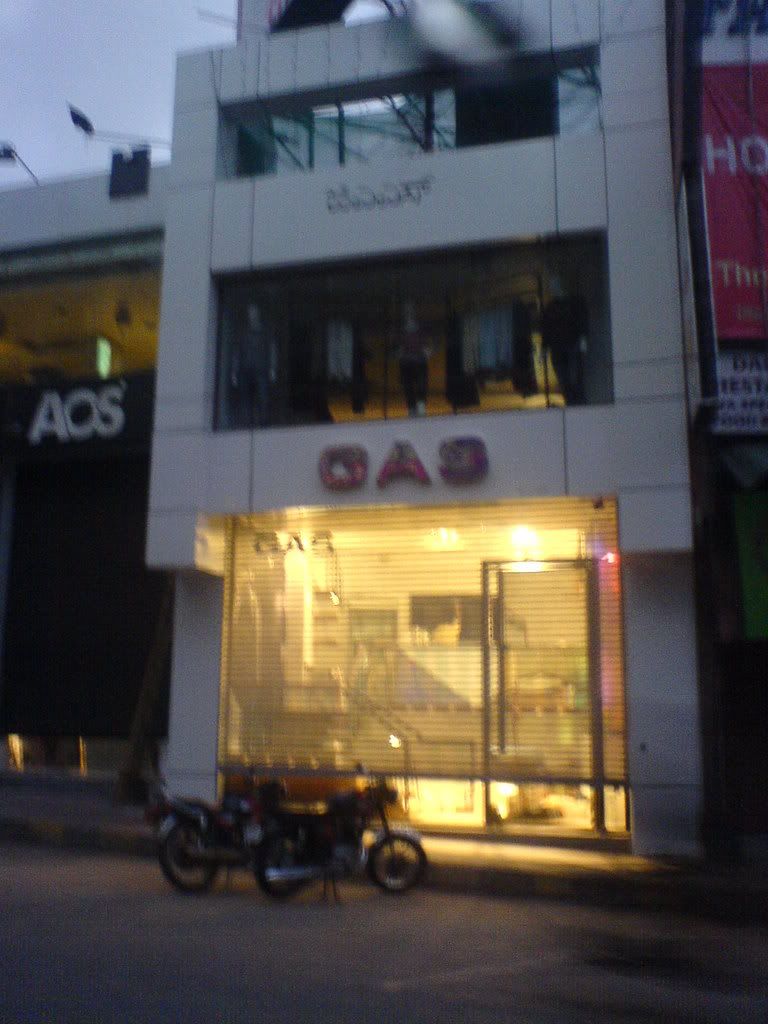 Finally all set, as per IST left the place to the skandagiri.The best part of treks is that you meet and make new friends and ofcourse the usual ingriedents like nature,exercise to your body, fresh air etc.Its a customory that we play DC's, so DC it is all the way to the starting point of the trek.
Beagn ascent to the peak ,since it was the early hours of the morning ,did not feel the tiredness. Already trekkers who had tented at the top of the hill the previous night were started to trickle down to the base camp. They say it is a very good sight at the top of the hills early morning.You can touch the clouds kida of feeling.
Usual chatting,conversation and photo sessions were going on in full fledge on reaching every higher steep or point .Sometimes I curse why digi cam was made :) keep on clicking until battery goes off (sala reel katam hi nahi hotha).I still remember in one of my college day treks on reaching the intial peakwith fog and mist coverving ,all of us thought we reached the peak, and there you go ...:) full photo session with the reel wala camera,and slowly clouds cleared and we see there are lot of hills to climb yet. ha ha full reel got over.Thats another story that we showed the same photos and told everyone in the college that it was taken in the final peek :)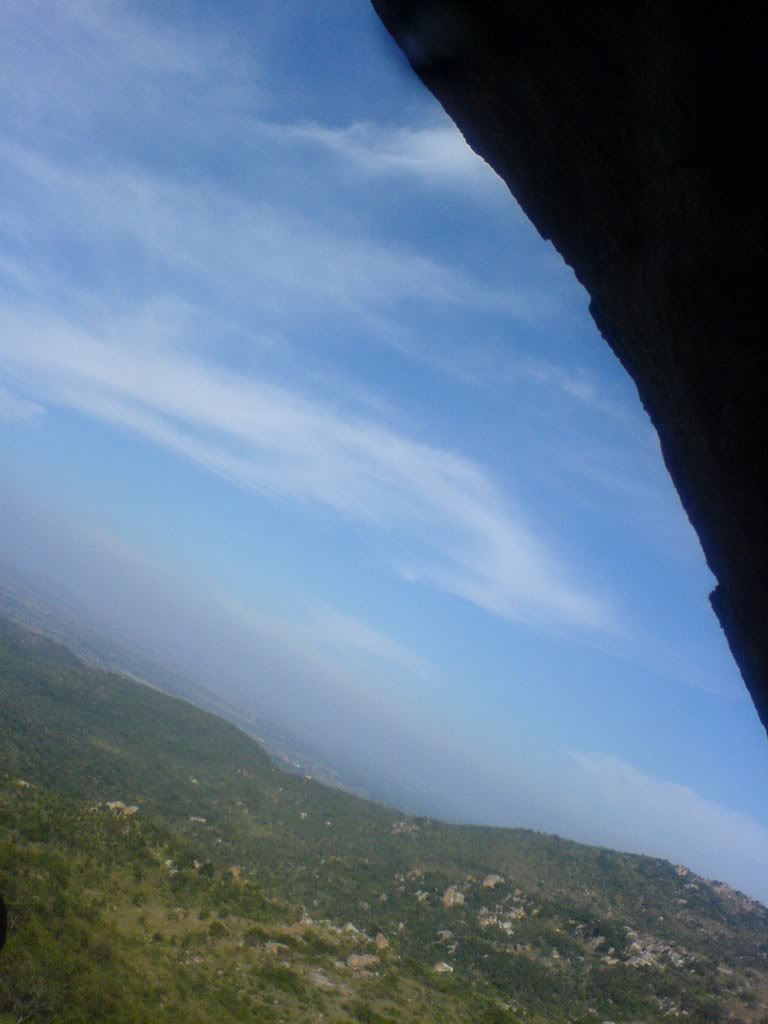 With new friends meena,smitha,amit & darshan (akka D.J) it was good mix of our usual gang and them. it was very nice to know them all .Like it happens in the marathon , the pacemakers broke away and made the lead pack and started climbing.The reaminng pack followed.Finally rechached the peak, a really good view. I can assure that you can find picturustic view all through the trek.We all gulped our midday breakfast omlete and bread.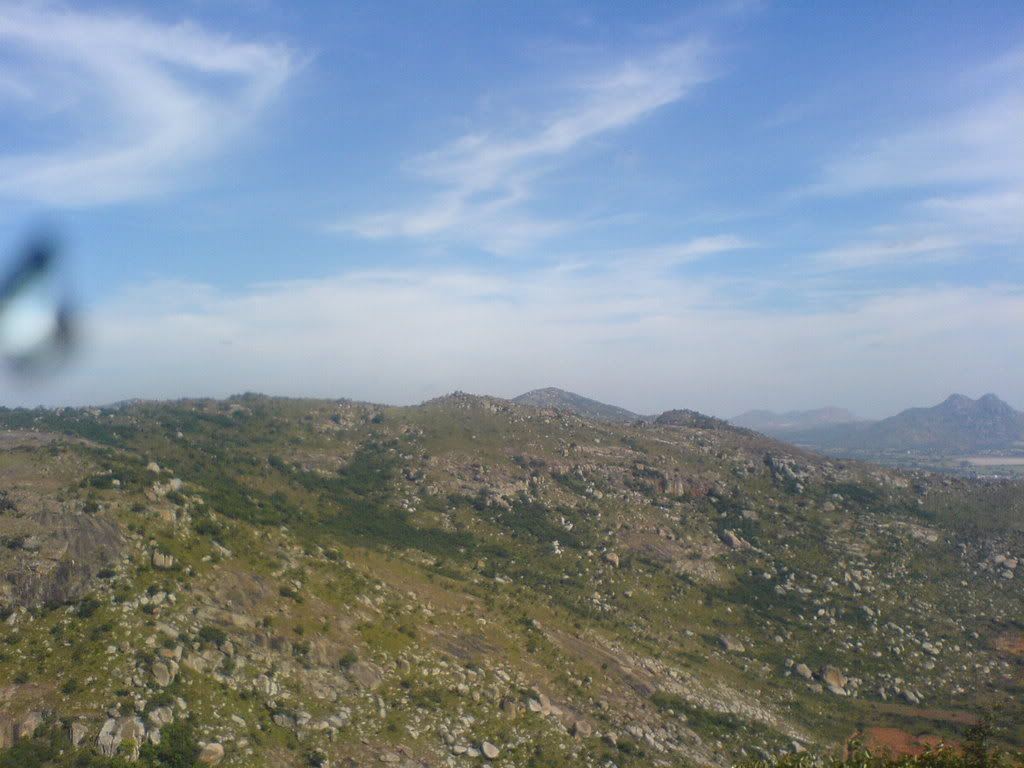 After the brief stay at the peek , we began out descent through the steep hills.The shutter bugs were also in full flow tooo .Slow and steady all came back to the base camp.On way back to bangalore,we played one more customry game "anthrakshri". I feel it is a default game which is in our gene , same in terms of "soliatre" as in windows :) ha ha .A quick stop was given for lunch in a dhabha.I am pretty sure, the dhabha people will not feel necessary to wash our plates , cos we cleaned off everything and could see our own faces in the plate after and before the lunch, That much dammm hungry we were. Very good trek indeeddddddddddd.
All got down and I hope all of them reached home safely, but I had to do one more task for the day.Riding my bike from MG road to my home without wearing my helmet , yeah i did not get my helmet in the morning.For my rotten luck, a Traffic inspector had parked his bike in front of my bike ...ohhhhh nooooo. I had to make two three rounds of MG and brigades, then I saw finally he had left from there. And some how I reached home...at last home sweet home.